B B King King Of The Blues Download Mp3
Posted : admin On

12/26/2021
Style: Blues Rock Format: MP3 320Kbps Size: 97 Mb Tracklist and Download links ». King Album: King Of Blues Released: 2019 Style: Blues.
Preview BB King - Blues on Top of the Blues
Record Label:
Westmill
Track Number
Track Title
Track Length
Track Price/Buy Link
1

The Thrill Is Gone

5:08
2

Paying The Cost To The Boss

6:26
3

Why I Sing The Blues

4:20
4

Everyday I Have The Blues

4:44
5

Caldonia

3:27
6

Sweet Little Angel

6:00
7

All Over Again

7:10
8

Guess Who

5:47
9

Darling You Know I Love You

5:09
10

Outside Step

3:30
11

The Letter

3:07
12

Please Love me

3:00
Duration:

57:48
Genres:

Blues
℗ 2016 Westmill
© 2016 Westmill
B B King King Of The Blues
Riding with the King (Deluxe Edition)Eric Clapton/B.B. King2020

Rollin' and Tumblin'Eric Clapton/B.B. King2020

Our FavoritesB.B. King2020

Golden Star CollectionB.B. King2019

B.B. King '69 (The Year Of The King)B.B. King2019

Everyday I Have the BluesB.B. King2019
B B King Music Youtube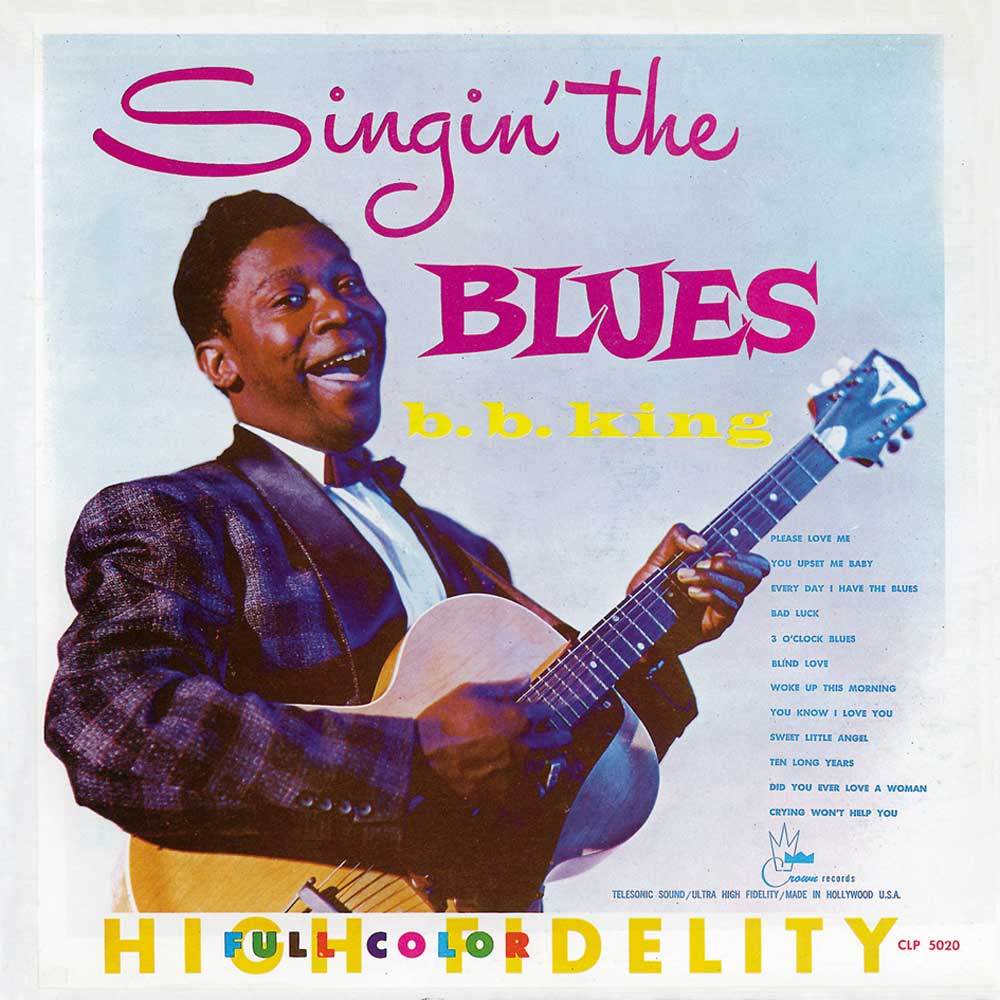 B B King Songs List
The Prophet - Unreleased First AlbumRoy Buchanan2004

Jazz Masters 35Johnny Hodges1994

Jungle SwingJohnny Copeland1995

Luck Of The DrawBonnie Raitt1991

Luther's BluesLuther Allison2001

OutriderJimmy Page1988
The Bihari brothers didn't go all that far out on a limb when they brainstormed the title of his encore album on their budget Crown subsidiary in June of 1958. What else would B.B. King proudly serve up for the LA label but THE BLUES? Like its Crown predecessor "Singin' The Blues" (available on Ace CDCHM 1041 as part of the rollout of B.B.'s Crown LPs), "The Blues" collected a dozen gems from King's singles back catalogue – here from RPM and Kent.
B B King King Of The Blues Download Mp3 Free Music
Although it didn't boast nearly the lineup of non-stop hits as King's seminal debut album, there's certainly no diminution in musical quality here. Nor were there any apparent concerns about the vintage of its selections. The set harked all the way back to B.B.'s legendary '51 session at the Memphis YMCA – the same fabled get-together that produced his first smash 3 O'Clock Blues - for its swinging flip That Ain't The Way To Do It.
'Boogie Woogie Woman', a romping relic with Tampa Red roots also dating from King's primordial Memphis tenure, sports Ike Turner's rumbling 88s audaciously pushing B.B.'s hearty vocal (he contributed no audible guitar whatsoever to the sizzling track). The mournful Don't Have To Cry was waxed in Houston circa 1952/53 with saxist Bill Harvey's combo. It originally served as the opposite side of B.B.'s Latin-tempo winner Woke Up This Morning, which the Biharis included on King's first LP. A pair of similarly saucy rhumba-tinged sides are aboard here, both of them bongo-laced. Don't You Want A Man Like Me, was laid down at Capitol Studios in early '54 and features here minus the cowbell overdubs present on the RPM single. The following year's playful Ruby Lee jauntily follows in its spicy footsteps.
King never had any reservations about recycling blues gems of the past (Lowell Fulson's 3 O'Clock Blues, Memphis Slim's Every Day I Have The Blues, Big Joe Turner's Sweet Sixteen, and the warhorse Rock Me Baby leap to mind). B.B.'s luxuriantly downbeat '54 hit When My Heart Beats Like A Hammer was another tried-and-true artifact, freely adapted from the first Sonny Boy Williamson's Million Years Blues. Why Do Everything Happen To Me, King's current single on Kent when this set hit the shelves, was yet another welcome revival, this time from the discography of Bay Area pianist and former labelmate Roy Hawkins (B.B. would memorably return to Roy's songbook in 1969 for what's endured as his eternal signature song, The Thrill Is Gone). The strutting You Know I Go For You was the coupling on the original Kent 45, and it's sad testimony to the commercial demands of its rock'n'roll-obsessed era that such a fine two-sider sank without trace.
Tenor saxman par excellence Maxwell Davis came on the scene as Modern Records' A&R boss mid-50s, about the same time most of the label's illustrious blues roster was pink-slipped in favour of a new generation of rock'n'rollers. Max's arranging talents greatly enhanced B.B.'s RPM output, and his full-bodied sax challenged B.B.'s sweet Lucille for solo supremacy on quite a few mid-decade King tracks. Davis' tight horn sections inevitably glided with assurance behind King, as What Can I Do and the single Troubles, Troubles, Troubles b/w I Want To Get Married underscore (the album version of the latter turns out to be a slightly different alternate from the single). The crackling-drums-followed-by-walking-bass combination that announces the rocking Early Every Morning was cadged from Elvis Presley's then-current remake of Arthur Crudup's My Baby Left Me, leading into the most aggressively driving number on the set and containing a load of blistering King guitar.
Like all the other entries in this series, "The Blues" comes with rare bonus tracks. This Sweet Little Angel' yet another chestnut that harked all the way back to Lucille Bogan's Sweet Black Angel (B.B. was likely more familiar with postwar renditions by Tampa Red and Robert Nighthawk), is neither his '56 hit version done in Little Rock with his road band nor the slicker Davis-helmed L.A. rendition heard on "Singin' The Blues", but a nice alternate take of the latter. There are also two scorching up-tempo efforts from obscure RPM singles: Bye! Bye! Baby is a throwback with Harvey's organization providing typical sure-handed backup, while I'm In Love is Maxwell Davis at his arranging best.
The other three items are a story unto themselves. B.B. was ready to bolt the Biharis' employ in May of '58 when he spent a few idle hours away from a Miami gig to knock off four sides for the perusal of none other than Leonard Chess. New Orleans bandleader/pianist Paul Gayten was in charge of the clandestine outing. B.B. was backed by his road band, and overall, it must be admitted that the results were a bit underwhelming. Yet Don't Break Your Promise, Don't Keep Me Waiting, and the trifling dance number Tickle Britches are invaluable from a historic standpoint. And they sure sound better here, right off the masters, than in the dubious copies that have occasionally made the rounds up to now.
With compiler/annotator John Broven's usual insightful notes, this tenth volume in Ace's essential (and remastered) mid-price series of B.B.'s Crown LPs rates with his finest long-playing offerings for the label. This is truly the blues according to B.B. King.
By John Broven